Description
This RGB+WW 15Meters 25Bulbs 5V String Lights(Electric plug in). Unlike traditional string lights, you can change multiple colors by using the remote. A more special design is the line of string light has a luminous breathing effect. It's waterproof and weatherproof. An ideal decoration for your yard, garden, balcony, patio, porch, cafe, restaurant, and other places need colorful lighting.
Weight & Dimensions
String light size: 150*2*7CM
Single string light in a box size: 25*25*14CM
Single string light weight: 1.2kgs
The outer carton of 8 strings is 52*30*52CM
The net weight of the whole box is 10.6KG
The gross weight is 12KG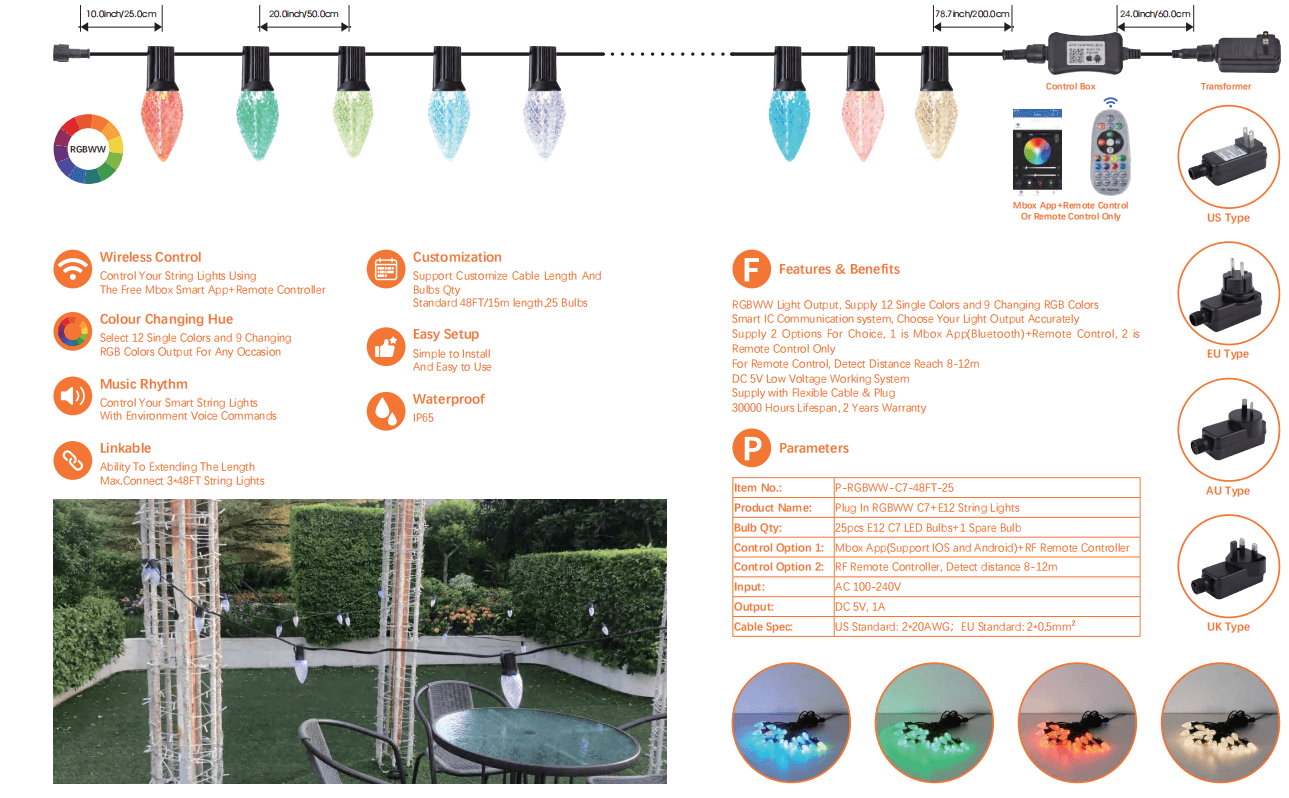 Specifications
Product Name: C7 RGB+WW 15m 25 Lights 5V String Lights
Specifications: 20 double row insulation 25 lights / customized
Function: 20 modes + 12 colors + voice control + wireless remote control
Transformer specification: European regulation 12V (can be customized)
Lamp holder specification: E12 lamp holder
Waterproof grade: IP65
Lamp housing material: PET
Light wire specification: 2*20AWG
Input/Output voltage: 100-240V/5V
Remote control range: 2 *AAA batteries, RF wireless, 360 degrees, 8M distances
Power: 5W
Warranty
Commercial Warranty: Yes
Product Warranty: Yes
Warranty Length: 90 Days; 1 Year
Full or Limited Warranty: Limited
Warranty Details: 90 Days for the bulbs, 1 year for the cord.