Description
Vintage warm white string lights, waterproof IP65, auto on/off, energy-efficient and longer lifespan, low voltage LED bulbs, flexible and easy to Install.
Features
The photocell light sensor turns the bulb on at night and shuts it off during the day. Perfect for outdoor lighting or scheduled security lighting.
Useful outside where the socket is not available.
Weight & Dimensions
String light size: 150*4*7CM
Single string light in a box size: 25*25*14CM
Single string light weight: 1.2kgs
The outer carton of 8 strings is 52*30*52CM
The net weight of the whole box is 10.6KG
The gross weight is 12KG.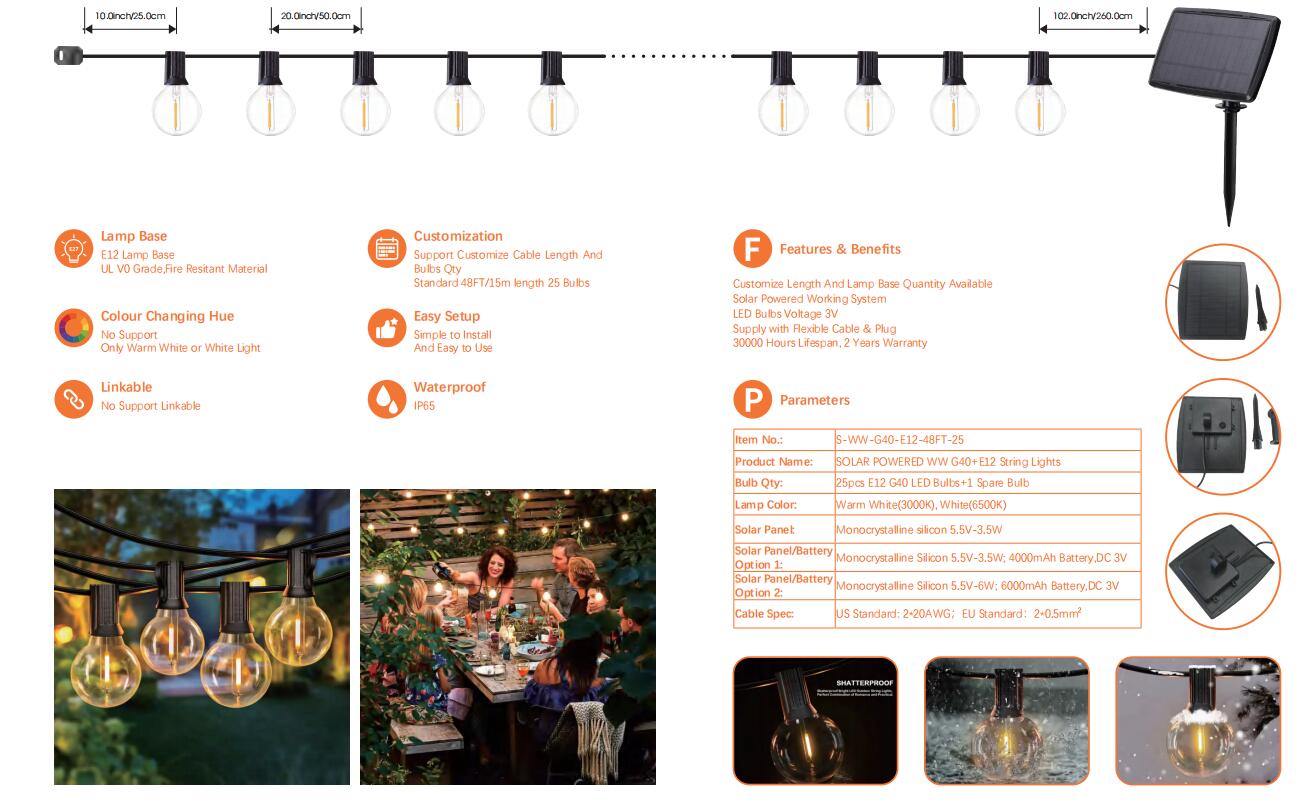 Specifications
Item No.: S-WW-G40-E12-48FT-25
Product Name: SOLAR POWERED WW G40+E12 String Lights
Bulb Qty: 25pcs E12 G40 LED Bulbs+1 Spare Bulb
Lamp Color: Warm White(3000K), White(6500K)
Solar Panel: Monocrystalline silicon 5.5V-3.5W
Solar Panel/Battery Option 1: Monocrystalline Silicon 5.5V-3.5W; 4000mAh Battery,DC 3V
Solar Panel/Battery Option 2: Monocrystalline Silicon 5.5V-6W; 6000mAh Battery,DC 3V
Cable Spec: US Standard: 2*20AWG;EU Standard:2*0.5m㎡
Warranty
Commercial Warranty: Yes
Product Warranty: Yes
Warranty Length: 90 Days; 1 Year
Full or Limited Warranty: Limited
Warranty Details: 90 Days for the bulbs, 1 year for the cord.