Description
This G45 BULB RGB+WW 15meters 15 lights 5V Solar power RF wireless remote control string light. Unlike traditional string lights, you can change multiple colors by using the remote. A more special design is the line of string light has a luminous breathing effect. It's waterproof and weatherproof. An ideal decoration for your yard, garden, balcony, patio, porch, cafe, restaurant, and other places need colorful lighting.
Festoon Lighting
1. With good performance in waterproof(IP65) level and quality.
2. It is pop ar in Europe, North America, Japan, Australia, etc.
3. Also apply to motif light indoor and outdoor, such as snowflake motif,letter motif ,animal motif and so on.
4. Widely used in indoor and outdoor decoration such as city lighting project, building out line, park and garden, bridge, etc.
Weight & Dimensions
Weight & Dimensions
String light size: 150*5*10CM
Single string light in a box size: 25*25*14CM
Single string light weight: 2kgs
The outer carton of 8 strings is 52*30*52CM
The net weight of the whole box is 16.22KG
The gross weight is 18KG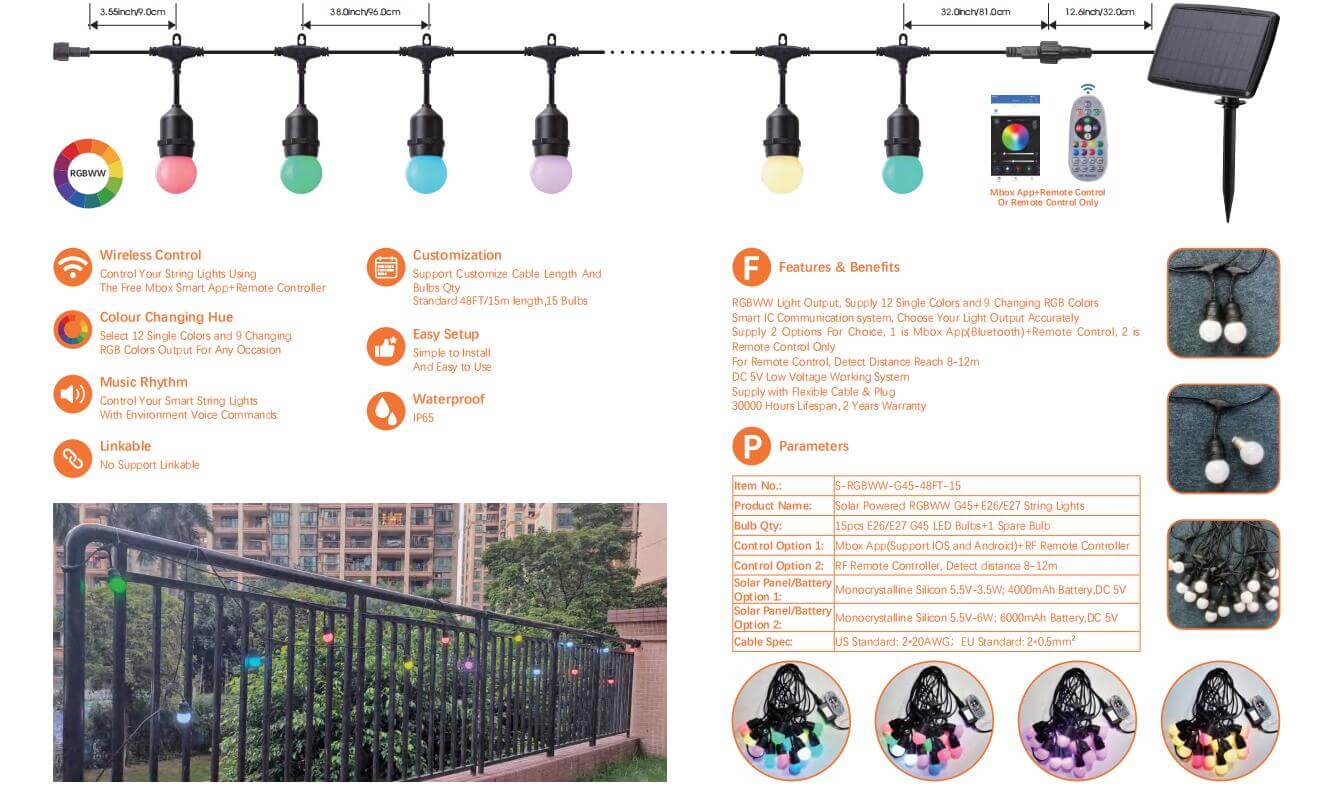 Specifications
Product name: G45 BULB RGB+WW 15meters 15 lights 5V Solor power RF wireless remote control string light
Function: 20 modes + 12 colors + voice/music control + 360° wireless remote control
Solar panel specification:21*13.5*3.5cm
Battery capacity: 3600mAh (2*3.7V batteries)
Lamp holder specification: E26/E27 head
Light wire material: PVC+ABS+Copper
IP65
Light wire specification: 2*20AWG
Input/output voltage: 5V
Remote control range: 2* AAA batteries, RF wireless, 360 degrees, 8M distance
Power: 3W
Warranty
Commercial Warranty: Yes
Product Warranty: Yes
Warranty Length: 90 Days; 1 Year
Full or Limited Warranty: Limited
Warranty Details: 90 Days for the bulbs, 1 year for the cord.