Description
The new, stylish and functional 48-foot LED solar-powered patio string lights have arrived! Stop wasting tons of energy with old incandescent versions and upgrade to the energy-friendly version! The string lights are the perfect outdoor patio lights for your backyard or garden. String them between trees, along a fence line, or in clusters around your space.
Weight & Dimensions
Single string small box 25*25*14CM
Single string weight: 2.2KG
The outer box of 8 strings is 51.6*29*51.5CM
The net weight of the whole box is 17.5KG
The gross weight is 19.5KG Including packaging materials, Aoke standard neutral packaging.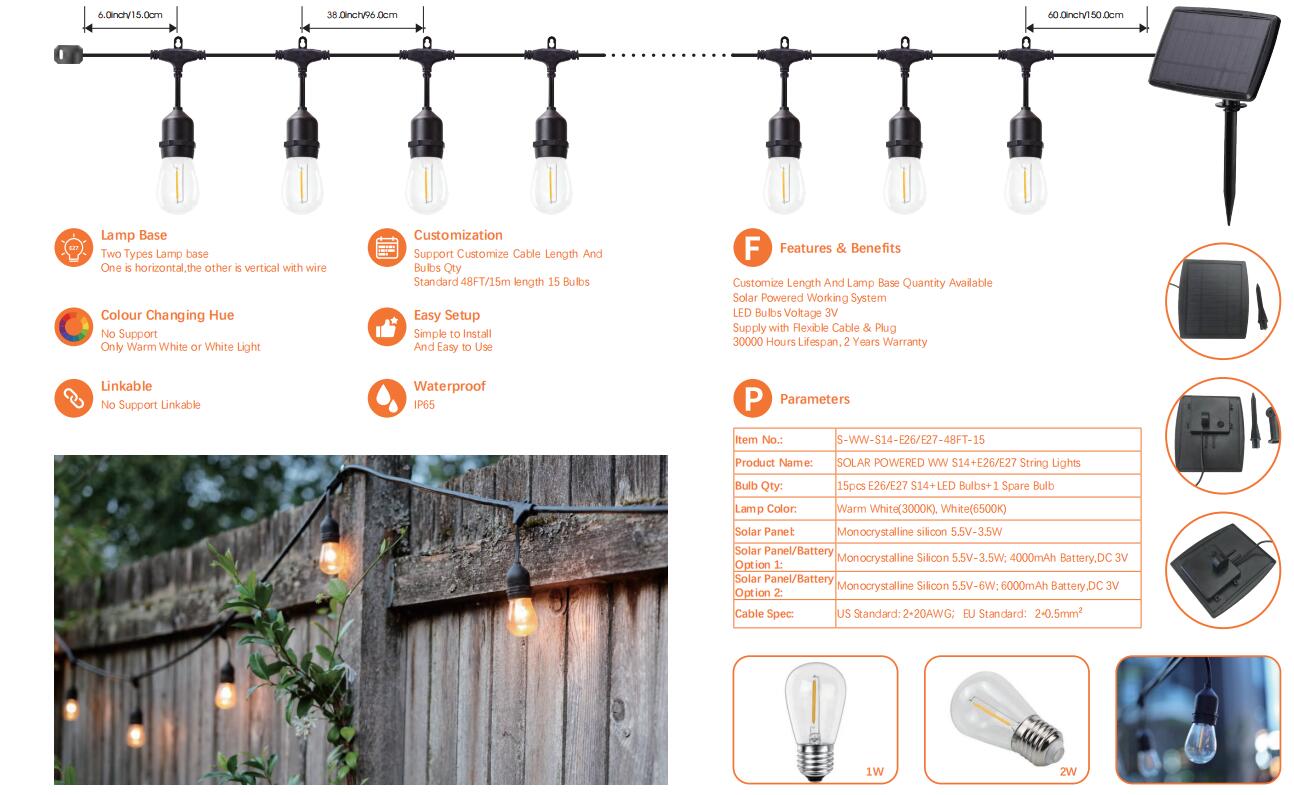 Specifications
Item No.: S-WW-S14-E26/E27-48FT-15
Product Name: SOLAR POWERED WW S14+E26/E27 String Lights
Bulb Qty: 15pcs E26/E27 S14+LED Bulbs+1 Spare Bulb
Lamp Color: Warm White(3000K), White(6500K)
Solar Panel: Monocrystalline silicon 5.5V-3.5W
Solar Panel/Battery Option 1: Monocrystalline Silicon 5.5V-3.5W; 4000mAh Battery,DC 3V
Solar Panel/Battery Option 2: Monocrystalline Silicon 5.5V-6W; 6000mAh Battery,DC 3V
Cable Spec: US Standard: 2*20AWG;EU Standard:2*0.5m㎡
Warranty
Commercial Warranty: Yes
Product Warranty: Yes
Warranty Length: 90 Days; 1 Year
Full or Limited Warranty: Limited
Warranty Details: 90 Days for the bulbs, 1 year for the cord.